Warped Wednesday, VOL. 1
by: Taryn Poe
Two bands that are no strangers to the Warped music scene, New Years Day and Attila, are back on the lineup to play the entire summer 2017 Vans Warped Tour! Both bands played together on the tour back in 2015, and we anticipate their crowds to be bigger, better, and heavier than ever.
On this list for AP's "Most Anticipated Heavy Releases of 2017" is rock band New Years Day. Their brand new album can be expected to drop this summer, possibly while on the road during warped tour, and is hoped to sound nothing like their latest record Malevolence or even their first album My Dear. New Years Day is always evolving and changing their style which is very admirable, and they always remain true to themselves even when straying from their roots. Their first album dubbed them "Fall Out Girl," but their latest releases have proven they are far from that title with dark, haunting tracks demonstrating their heaviest sound yet. We are predicting their anticipated new release will be even more heavier and we can't wait to head bang to it! New Years Day just keeps growing with their sound, style and most importantly, their fan base. Last time they played warped (2015) they made several appearances on one of the main stages as the first act to go on. Normally they would perform on one of the side stages, but warped founder Kevin Lyman notices their growing popularity and bumped them up several times to play in front of a larger crowd. This year they are on Journeys Left foot stage (one of the main stages this year) for the entire summer along with Attila! They definitely deserved the promotion and we look forward to watching them slay that stage! C heck out their latest music video for their song "I'm About to Break You," off their album Malevolence here: https://m.youtube.com/watch?feature=youtu.be&v=rV410SMxhTw
Famed rockstars and partiers, Attila, have been taking the music scene by storm playing festival after festival. The heavy metal band just finished performing at Ohio's Rock On The Range and are gearing up for another long, fun summer on the Vans Warped Tour. Attila's latest album Chaos is nominated for an APMA for album of the year, to cast your vote head to https://www.surveymonkey.com/r/apmas2017. Attila's sets on warped are some of the most brutal, hardcore, enjoyable sets we have witnessed. Just take their set last time they toured warped for example, they had giant red solo cups with beach balls encouraging fans to hit the beach balls into the cups. It was one giant pong party and we can't wait to see what they have in store for fans this summer. You can download Attila's newest album Chaos here.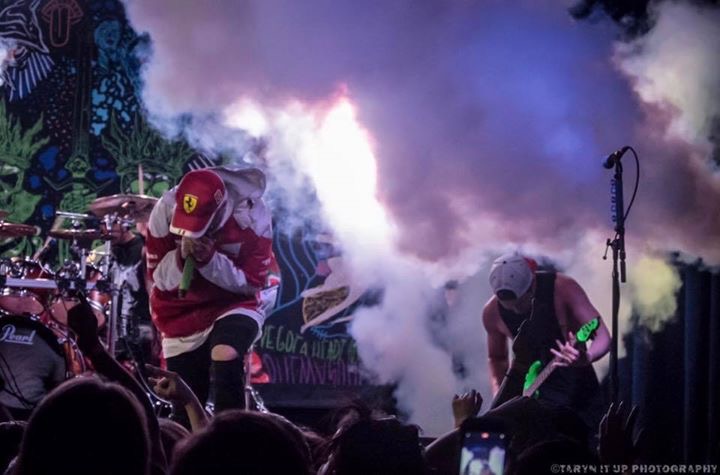 Don't miss out on your chance to get sweaty in the pit, up close and personal with New Years Day and Attila! For a list of all Vans Warped Tour 2017 dates visit:
http://vanswarpedtour.com/dates/

Check back every Wednesday for our latest #WarpedWednesday Rewind!