Josh Gray
by: Nicole Juliette Hetlyn
Josh Gray is more than your typical singer/songwriter. He is a storyteller, is true to himself, and is a talented artist who cares so much about his art, that he will spend as much time as necessary to deliver the perfect song for you. I thoroughly enjoyed getting to know Josh, as well as watching him perform.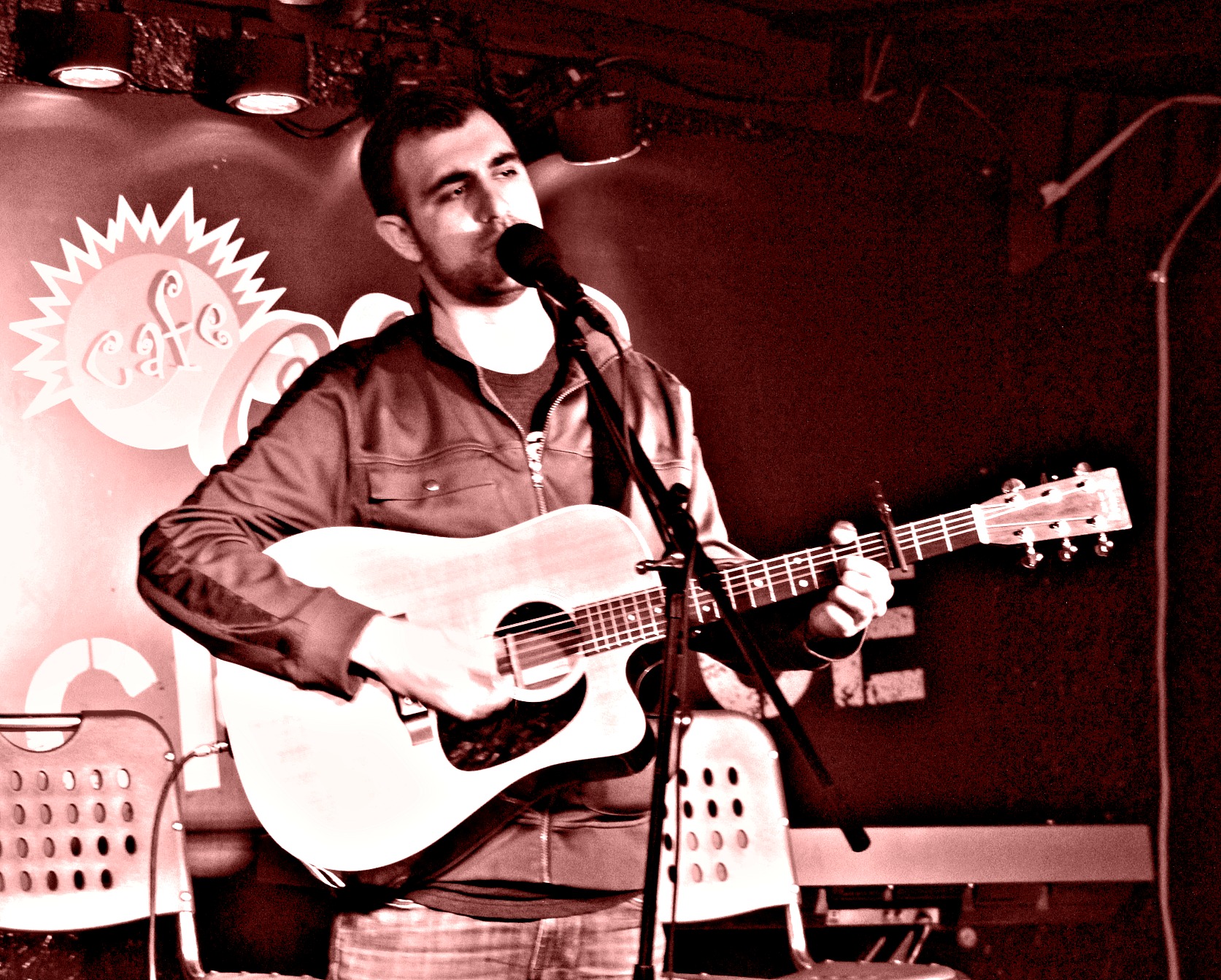 Josh Gray: Performing at Cafe Coco (Photos: Nicole Juliette Hetlyn)
Describe your music, and tell us a bit about yourself.
My name is Josh Gray, and my music is classified as Americana. There are a lot of folk elements and some blues in the vocal, some bluegrass picking, and a little bit of country. I'm influenced by some of the old Texas songwriters that don't have that country twang, but have that slow, Texas delivery. I try to make every song sound different. I'm not crazy about albums where every single song sounds the same. If you listen to my songs, you can definitely tell that it's me. Some of my songs are story songs, and are spoken, and some are finger-picked ballads. I try to mix it up and keep it different.
I really like your recent video for "Mortality Blues." Where did you come up with the concept and visuals for it?
The video was directed by a friend of mine, Kayla Kohl. We met here (Cafe Coco) and the song is clearly about mortality. It tributes the old blues songs that I used to listen to. I listened to a lot of acoustic blues from the 20's, so the two of us came up with the idea of the video together. We wanted to have a bonfire in the video, but that was right before the Gatlinburg fires, when they had the fire ban. We drove out to a campsite outside of Nashville, and no one told us that there was a fire ban, and we couldn't do it, so we bought smoke bombs instead. I think it turned out pretty cool. The black and white is cool because it's a contemporary version of an old style song. The song doesn't have a strong narrative, so we tried to create one. The best songs have some kind of story.
Your music is a cool mixture of Johnny Cash / Bob Dylan vibe. Was your sound influenced early on by some of these musicians?
I grew up listening to punk music in high school. About 90% of my music is my lyrics. I'm self-taught on guitar, and don't have an interest in getting great at it. It's very rare to find a musician who is amazing with lyrics and amazing at their instrument. Usually a musician focuses on one, and the other suffers. I like punk music because people speak out about stuff, they speak what's on their mind. I traced that back to the 60's with folk music, and then I traced that even further back to blues music in the 20's. I started listening to Dylan because his lyrics are great. Leonard Cohen, Johnny Cash... I didn't realize that I had a very percussive playing, like Johnny Cash. Johnny Cash used to take a piece of paper and stick it up in the strings to mute them, instead of using his hands. He didn't have a drummer, so that would create that kind of snare sound; and I do a similar thing. You mentioned earlier, the cover on my album ("Punk Rock Girl" by The Dead Milkmen), and that's really the only cover I've done. Nashville is a city of covers, and there is nothing wrong with that. I just never had the interest of learning a cover because I never wanted the guitar style of another musician to subconsciously rub off on me in my playing. Regardless, other musicians are going to rub off on you when you listen to music, but for me, it was just by listening to music. I would say that the influences that people pick up on the most are Johnny Cash and Bob Dylan, with a little bit of Leonard Cohen
If you could collaborate with any artist who would it be?
Collaboration is something I am trying to stay away from, even though everyone in Nashville co-writes. The cynical thing is, Picasso didn't co-write/co-paint. A lot of people that I've met that write for a living are writing for the market, which is country, and some of it isn't the best. When people ask me to co-write, I try to stay away from that. Maybe if I liked someone's lyrics, I would try it. Someone posted on a Facebook page "what's the fastest you've ever written a song?" People were responding with 5 minutes, 20 minutes.. For me, it's a month, maybe two months. Sometimes I will write a verse, walk away for a few months, then go back to it and write another verse that fits perfectly. A lot of what I write is like a puzzle, so it's best to piece it together. Sometimes I will have three songs that had pretty great ideas, and I end up cannibalizing those into one great song. One way that I have gotten better is by taking an old song and condensing it down to one verse for a new song. I've never sat down and said "I want to write a song about [topic] today, and that's what's hard about co-writing. I might try it at some point. When I first moved here, I didn't know anyone. Someone hosted an event at their house where all these writers got together and they play songs for everyone, and everyone gave their feedback. It was mostly country artists and they were very focused on writing in "the formula" - verse, chorus, verse, bridge. Every song sounded the same. Good writing is good writing, and there are people who can write a good song in that structure, but you shouldn't limit yourself to that.
So then, what keeps you true to yourself?
A lot of people, and I am guilty of this too, we try to appeal to everyone since we feel like that's the only way to make it. Artists are trying to get more likes on Facebook, more followers on Instagram; they aren't being themselves. Human beings have opinions. I am trying to be more true to myself. I think it's funny, because there are a lot of people that are into country music, but they aren't into modern country music, which is pop. People like traditional country, and that's hard to find since no one is creating that anymore. The closest that you will find is people who are creating Americana music. A lot of Americana bands, myself included, are speaking out about things. They are coming from cities like New York where there are high concentrations of liberal people, and Nashville is also a liberal city. As for as touring goes, you only need about 1500-2000 people to make a living traveling around the country. I'm going to speak my mind on things, and if I piss some people off, that's fine. I will still get the majority of those 1500 people, who really care, to listen. I'm not trying to appeal to everyone, because if I did, then something is wrong. I'm an acquired taste. There was a good article in the Washington Post about country artists speaking out about politics, and if they should be obligated to do so. [then we talked some politics for a bit, and how politics tie into music..]. I wrote "Stand Together" because of all of the crazy shit happening with Missouri and across the country, and then I performed it a week before Freddie Gray. I was actually in Baltimore the night of the riots, playing music in the city. I'm writing a new song about cops, as well.
What's in store for 2017?
My first album was an EP, only six songs. I would like to release a ten song, full-length album. I also want to start touring. I would love to go up and down the east coast. I played a show with Joe from the Dead Milkmen, and we were talking about possibly touring together later in the year. Trying to move forward and to keep on pushing. I lived in Maryland prior to Nashville, and I could have stayed there, but I would have never had any opportunities. I think once people attach "Nashville" to your name, it helps. I'm still trying to book new places, although I would never turn down a show. I like to play around the city, because it keeps me on my game. I also like to try out new songs. There are always different people in the crowd every night, so that's always cool. I definitely want to start touring, t-shirts will be printed, it will be fun to play Baltimore again. It's always good to take a break and come back. I like Nashville though. Plus, it answered the question for me of "what do I hate more: extreme cold or extreme heat?" The answer is extreme cold. I don't miss the snow at all.
Connect with Josh Gray:
Facebook / Website / YouTube / Soundcloud
Upcoming Tour Dates:
6/15/17 - Bobby's Idle Hour - Nashville, TN
6/21/17 - The Crying Wolf - Nashville, TN
6/22/17 - Bootleggers Inn - Nashville, TN
6/23/17 - Café Coco - Nashville, TN
6/30/17 - House Show - Nashville, TN
7/21/17 - Nebulosity Festival - Atwood, TN
7/27/17 - Bootleggers Inn - Nashville, TN