Paramore - Secret Show & Signing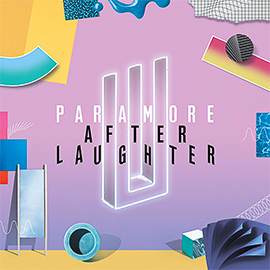 by: Nicole Juliette Hetlyn
This past week has been full of surprises, as Paramore celebrated the release of their 5th studio album, After Laughter. Although this highly anticipated album came out Friday, Paramore had some special treats in store for Nashville for release week. Fliers "leaked" earlier in the week hinting of a secret show that would take place Wednesday night at Exit/In, but no one had any information. At 5am on Wednesday morning, ticket information was finally revealed. The rumors were right; Paramore had a "secret" hometown show that very night. People lined up over night and waited in line all morning to get a special silky purple wristband. This would be Paramore's first show in three years, and the first show with drummer Zac Farro since 2007; this was a must see. I had friends flying into Nashville (like Lidia from Finland), driving from other states (like Carly from Indianapolis). We were all texting/tweeting/messaging updates, we needed our friends to be there for this show. Luckily for people like Travis, Duncan, Morgan, Alex, and I, it was a quick 15 minute commute (although we would've done the same).
We returned to the venue, grateful to be one of 530 people for what was going to be an iconic show. The marque had changed over; "05/10 PARAMORE / SOLD OUT / ZAC IS BACK." This was really happening. We made more friends with other fans in line (because that's what you do at Paramore shows, we're family). When the doors open, we made our way to second row. The next hour and a half was my heart pacing as I looked at my friends; we were about to see our favorite band in their hometown. Paramore kicked the show off with "Hard Times" and every single person sang, danced, and cheered along. This was the first performance of the new era, and they started us off on such a great note. For the first time in a long time, everything felt so right again.
The set-list was impeccable. It was a perfect blend of songs off of all of the albums. I was going to pick my "top three performances," but I honestly can't. The variety of the set-list was A+ and every single song, I turned to my friend and would say "I love this song," or "this is my favorite song!" The finale also consisted of a Halfnoise cover, which was really cool to see Zac singing and all of Paramore supporting each other. It was also my favorite Halfnoise song (Scooby's in the Back), so I sang/danced along as crazy as they did. Although Paramore's sound has evolved over the years, what remains the same (or even better) is the way they perform. Every single song consisted of Hayley interacting with the crowd - singing into people's phone's, giving high fives, running around the stage and dancing like crazy. Taylor is an incredible guitarist; he gets so into the songs that he's playing, and you can feel every note based off of the way that he dances. Zac is so genuinely happy; I have never seen someone smile so much on drums, his cheerfulness is absolutely contagious.
The chemistry of the recently reformed members is also so apparent. In between songs, Hayley would give Zac a high five, rub Taylor's shoulder, etc. It was so clear that everyone on that stage is doing what they love with their friends. If you listen to any of the songs on After Laughter (and you should buy the CD asap, and listen to it on repeat), you would understand. The lyrics are very dark, honest, and genuine. There was a lot of sadness, dark times, and hurting. Hayley was very honest when she opened up to the crowd about this. The melodies and beats might be cheery AF, but they mask the pain of the lyrics. I love the dark contrast, and I appreciate and respect Paramore for being so vulnerable. Hayley said, "life kicks you in the face, but you've got to get back up. Show off your bruises." These three have overcome so much, and it is so obvious that making music together with their best friends is what they want to do.
This was such an incredible Paramore show to go to, it was so reassuring to Paramore, as well as their fans, that the future's so bright. To anyone that is still unsure if Paramore is still "Paramore," I can promise you that they are back and better than ever. Everyone was so excited that Zac is back, they kept chanting "Zac is back! Zac is back! Zac is back!" Paramore traditions still carried on as well. The very first note for Misery Business plays, and everyone loses it. We all know that Hayley is going to pick one very lucky person to sing with her. The lucky person in Nashville was the one and only, Wesley! Although I don't know him personally, I recognized him from his Good Dye Young Hair and his amazing YouTube videos. Let's just say, Wesley killed it on stage - singing, dancing, dabbing; all the things. Finally, my favorite tradition: Hayley says: "for those of you who don't know who we are… (crowd joins) WE .. ARE.. PARAMORE!" That "we" implies the people on the stage, as well as in the crowd. Always has and always will.
FRIDAY. The album is finally here! Word's cannot express how much I love this album. Paramore held a special signing at Grimey's to meet their fans and sign their brand new release, After Laughter. Fans lined up in the rain and showed their wristband to receive the album. It was crazy to finally have AL in our hands. We've been waiting so long for this album, and here it was. We were just moments away from seeing our their favorite people, where we could thank them and talk to them. Everyone was making friends in line and talking about their favorite songs. The girl next to me and I agreed that "Fake Happy" was our favorite song, even if it makes me ugly cry.
My friend Travis and I decided to go all out and to make our own DIY "Told You So" outfits. We were all decked out in red outfits, berets, glasses, you name itl. As soon as we got up to the table to meet Paramore, they freaked out. "You guys look amazing!!" Hayley, Zac, and Taylor couldn't get over our custom look that we made ourselves - from thrift store shopping! What I love about Paramore is how authentic they are, they care about every person and try to get to know every fan. It wasn't "here's your CD, random person, bye!" Hayley said to me, "you cut your hair, it looks good!" Yes, she knew who I was and thanked me for being there. I thanked them for such a genuine album and for being so real with us. Travis said that he was new to the parafam, and Hayley said "you don't look new!!" and Taylor said that he was honored that he dressed as him.
If this week taught me anything, it's that Paramore has made the strongest return possible. Their new album, After Laughter, is the most authentic album you will hear. They truly put their hearts on the line and wrote 100% honest lyrics that are super relatable. You'll listen to some of these songs and cry your eyes out empathizing with them, and also cry your eyes out because these songs will hit so close to home. You will also dance your ass off. You'll smile, laugh, and dance away those hard times. I'm also super grateful that I finally met some of my friends in the parafamily that I only knew online, as well as made new friends at the show. Paramore announced that they will be doing their third Parahoy April 6-10, and I cannot wait to see all my friends on this cruise. As they love to say, WE ARE PARAMORE.
Exit/In Photos: Nicole Juliette Hetlyn 
Grimey's Photos: Kate Myers

*Congratulations to Kate on graduating!
Kate has been working with Warner Music Group as their College Music Rep, and we know 
that she is going to keep killing it in the Music Industry.
*Special thanks to Travis Hester for helping with the DIY Told You So outfits and for 
partaking in all the Para-activities with me. Check out his reaction video to After 
Laughter, https://www.youtube.com/watch?v=Eqru_T3hpqI